Ann Taylor
You're Invited to a White Party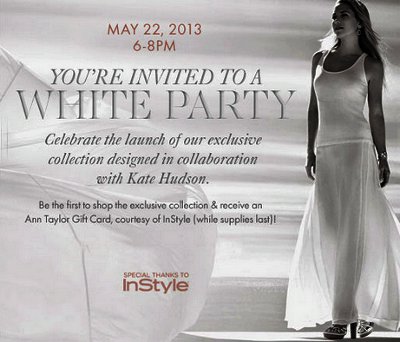 You're Invited to a White Party
Celebrate the launch of our exclusive collection designed in collaboration with Kate Hudson.

May 22, 2013
6-8PM
Banana Republic
Crisp whites and playful patterns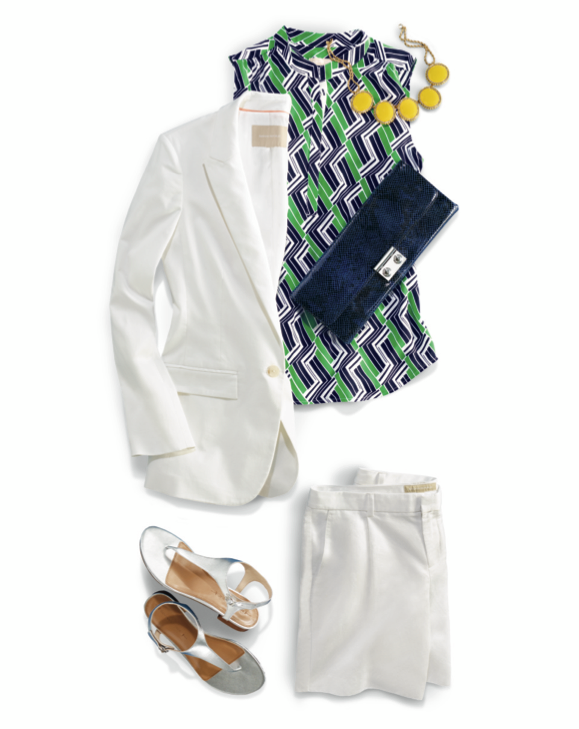 Crisp whites and playful patterns make the perfect pair.  Create this look by using brights to spice up your neutrals. 
[More...]
Bath & Body Works
4 for $15 or 6 for $20 Anti-Bacterial Hand Soap


Regularly up to $5.50 each. While supplies last. Single item purchases at regular price. Selection may vary by store location. Offer valid at select U.S. Bath & Body Works stores through June 2, 2013. Offer not valid at Bath & Body Works stores in Canada. See store for more details.

[More...]
Brighton Collectibles
Bracelet Supporting Children's Art Programs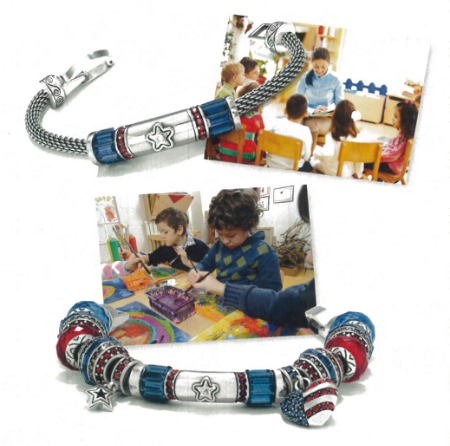 Brighton's Americana Jewelry Campaign Empowers Kids' Art Aspirations in Local Communities Throughout the Nation
LOS ANGELES (May 16, 2013) - For the second year in a row, this iconic accessory company - which over the past decade has supported charities with more than $8 million in donations - is turning its focus to donating to a wide range of kids' charity programs for the arts. These programs will include ballet, orchestra, symphony and other music programs and classes as well as painting.
As adults, many of us can recall the exhilaration of giving our first live performance, or discovering the sound that a trombone makes, or the thrill of watching a ballerina stand on pointe the first time. Today, many schools across the country no longer offer children these opportunities. This campaign offers people the chance to ensure that children in their communities have the chance to experience the arts up close - giving the next generation of artists a bright future.
At Brighton Collectibles, the company doesn't simply agree with the maxim "Be the change you wish to see in the world" -they've built it into their business by designing jewelry to raise money for non-profit organizations that help people in the communities near their stores, and this initiative is one that Brighton's owner and design team feel passionate about. As Laura Young, Brighton's President of Sales and Marketing explains, "I can't imagine what my life would have been like without the ballet classes I took throughout my school years, the piano lessons and recitals, or learning to paint with oils. My participation in these programs not only gave me an appreciation for the arts, it gave me the confidence to become the person I am today."
For each $58 independence Charm Holder Bracelet and each $48 Americana I.D. Bracelet sold from May 24th through July 31St, 2013, the company's 172 Brighton Collectibles stores and participating Brighton retailers will contribute 50% of the retail cost to children's art charities which will be chosen by the stores in which the bracelets are sold - each store will select a 501 (C) (3) charity program ora local school, ensuring that the programs will benefit their own families, friends and neighbors and strengthen the arts in each community. To find a participating store near you, visitwww.brighton.com
California Pizza Kitchen
Come Taste What's New at CPK!

Introducing our two new seasonal items, the Spring Market Vegetable Salad and the Spicy Korean Barbecue Pizza!
[More...]
Chico's
The sun is shining...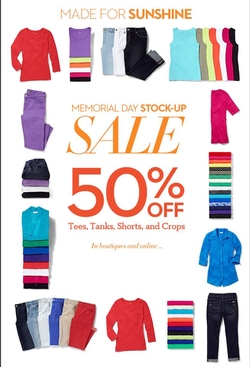 The sun is shining (and the savings are hot!) Come in now for great savings on all your favorite basics. 50% off tees, tanks, shorts & crops!
[More...]
Coldwater Creek
What's trending? Maxi skirts!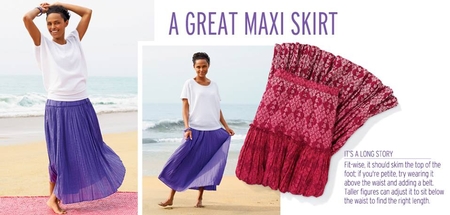 What's trending? Maxi skirts! Shop this great summer look in stores now. 
[More...]
Eddie Bauer
Everything On Sale In Stores!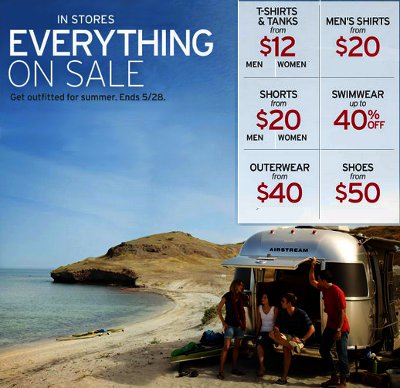 Offer valid through May 28, 2013. All prices in U.S. dollars. See store for details.
Express / Express Men
Graphic tees!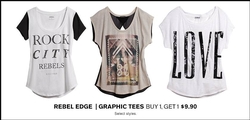 We're loving this new batch of graphic tees! Skulls, tropical prints and even some uber-cool animal prints are buy one, get one $9.90. 
[More...]
Gymboree
Our $12.99 & under sale begins now!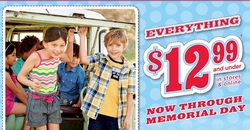 Our $12.99 & under sale begins now! Save on EVERYTHING we have, from dresses to sweaters to shoes to swimwear. Through Memorial Day only! 
[More...]
J. Jill
J.Jill - Memorial Day Savings!


25% off* all sale styles.
Jos. A. Bank Clothiers
Deal of The Day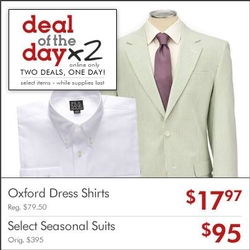 Use our Deals of the Day to create a unique seasonal look or add almost any other suit at 50% off. http://bit.ly/p7ZaKo
[More...]
P.F. Chang's China Bistro
Treat mom to a special meal at P.F. Chang's this Mother's Day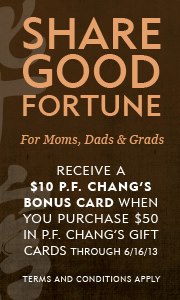 Treat mom to a special meal at P.F. Chang's this Mother's Day. For a limited time receive a $10 P.F. Chang's BONUS CARD when you purchase $50 in gift cards through 6/16/13. Available In-Stores & Online. 
Pier 1 Imports
Big savings on tap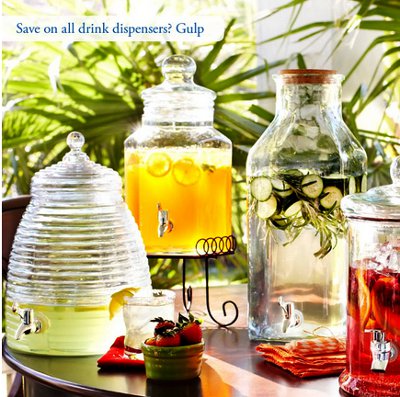 Quantities and selection may vary by participating store. Prices in Alaska, Hawaii, and Canada may vary. Prices at store closing locations may vary. Advertised prices are subject to change as well as subject to state, provincial, and local taxes and fees. See store for more details. 
[More...]
Pottery Barn
Starts Now! The Memorial Day Sale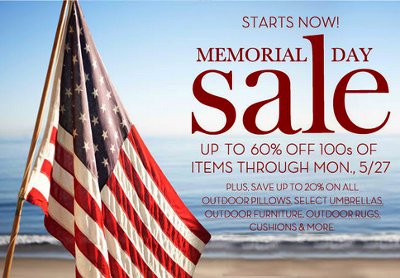 Starts Now! Up to 60% off 100s of items through Monday, May 27, 2013. Sale quantities are limited. Prices listed in US dollars.
Pottery Barn Kids
Save 20% on all outdoor furniture

Sale quantities are limited. Savings available on select items only. All sales on sale items are final. Offer valid for US orders only. Prices listed in US dollars. See store for complete details.
[More...]
Sephora
Inspired by stained glass windows...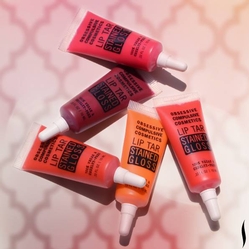 Inspired by stained glass windows and jewels, meet cult-fave Obsessive Compulsive Cosmetics' latest.
[More...]
Soma Intimates
PANTYraid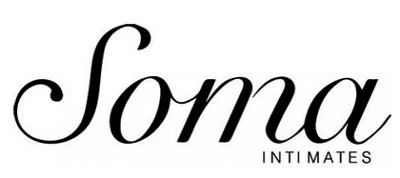 PANTYraid
5/21/2013 to 5/27/2013

7 Panties for $35,
Select styles
Regular price $14-$16
Sizes S-XXL

Select styles only while supplies last. Discount reflected at checkout. No adjustment on prior purchases. Limited time only.
Starbucks
Tumble in to a Free Drink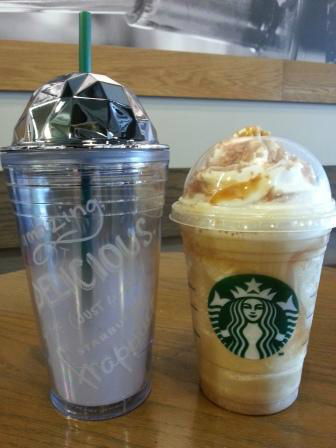 Free Grande Frappuccino with a Purchase of a Limited Edition Frappuccino Cold Cup $12.95
Talbots
Extra Credit for Teachers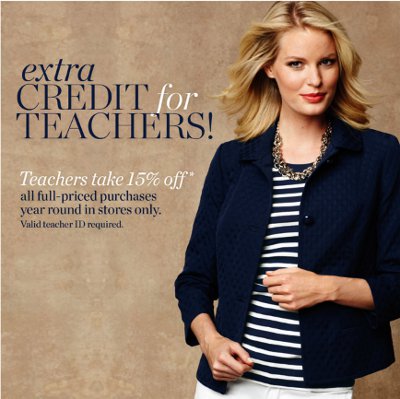 TEACHERS TAKE 15% OFF!
 
15% discount is valid multiple times only in Talbots stores during normal store hours for a limited time. Offer valid on any full-priced merchandise. Not valid on already-discounted merchandise. Valid teacher identification must be presented at time of purchase to receive discount. Previous purchases do not apply. May not be combined with any other offer, coupon or discount. Not transferrable. See store for details. 
Victoria's Secret
The Annual Swim Sale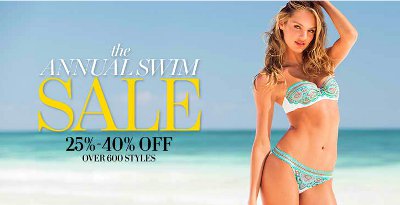 Shop our Annual Swim Sale! Up to 25%-40% Off. Swim available in select stores. See store associate for details.
[More...]
White House Black Market
Accent flash: flame!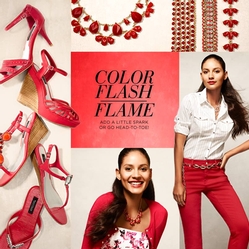 Accent flash: flame! Add a pop of color to your outfit with these fabulous red pumps. Trade in your black slacks for red or take your look from day to night with a red cardigan.
Williams-Sonoma
Grill Time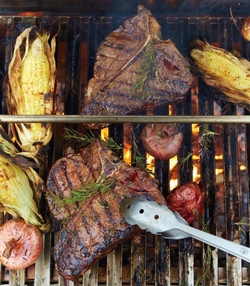 No matter what kind of grill you have, the same basic techniques apply—and with a little practice, they're simple to master. Fire up the grill and get cookin! 
Get all your grill basics at William Sonoma and be the grill master of your Memorial Day BBQ
[More...]
Yankee Candle
Introducing Man Candles II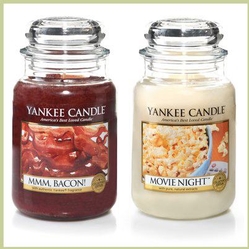 Introducing Man Candles II - the return of the collection that has everyone talking! And along with the original best sellers, we've added the most-requested MMM, Bacon!™ and Movie Night™. Now available in stores!
[More...]